Dynamic 5-axis machining with grid table in XXL format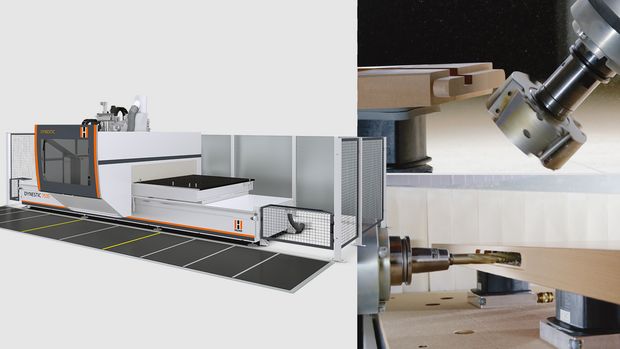 The maximum machining height of 300 mm opens up completely new application areas and market opportunities for the operator. Even with this huge working depth, the moving stands in solid gantry design ensure utmost precision and optimum cutting results via two synchronous drives.
"The 5-axis CNC DYNESTIC 7535 sets standards, both as a universal stand-alone machine and in the fully automatic versions."
The functionality of the Campus software provided and nesting result of the optional BetterNest software are truly impressive. The high-flow nesting table ensures optimum vacuum flow and can also be supplied with an intelligent 16-field grid table and software-controlled vacuum control. "The changeover to suction cups requires only minutes and makes the DYNESTIC 7535 a true universal CNC machine". Quick change-over to double acting suction cups also allows workpieces such as doors, staircase components, etc. to be held securely. Naturally, it also features the high precision and efficiency of all 5-axis CNC machines from HOLZ-HER. This makes the DYNESTIC 7535 a true all-round talent with virtually unlimited machining capabilities.