Panel storage system STORE-MASTER 5110: Professional software drives intelligent technology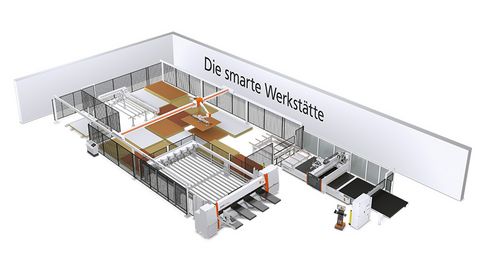 Our experience at your disposal. With our panel storage systems Increase the capacity and profitability of your shop The personnel and organizational expenses for handling the panels is reduced to a minimum, even for a wide variety of panels and decorative finishes. The HOLZ-HER STORE-MASTER panel storage system is suitable for a variety of formats and materials. The panels can be positioned by the manipulator in a chaotic as well as assorted structure. In each case, exactly the right panel is selected by a computer during removal. Your stock panels can be rotated easily by up to 90° and therefore stored in any desired direction. Damage to the panels is ruled out due to automatic, computer-controlled transport.
The intelligent design of the panel storage system and the virtually unlimited possible uses of the manipulator, open up completely new methods of innovative storage - tailored precisely to your requirements.
Our system ensures perfect storage on up to three levels and can be used in all rooms with heights greater than three meters. Multiple machines can be charged and as many storage bins as desired set up for storage and retrieval. You can freely define the storage spaces for the stored panels
In the download area you can download a compilation of several STORE-MASTER projects in the download area. The various projects show you how a perfect storage solution could look. Every project includes a detailed 3D drawing with basic technical details on the machines and specifications. Moreover you can see the resources you can save with our fully automatic storage system. Convince yourself of the advantages of the various possibilities with the STORE-MASTER 5110 from HOLZ-HER.
---
Here is what the HOLZ-HER offers
Careful panel handling to prevent material damage
Panel separation monitoring
Remnant return
Weight-optimized stable design
Optimum space utilization
Dynamic panel preparation
Panel position correction
Intelligent storage software including interface.
STORE-MASTER Panel Storage
Storage entry and exit location with stop - no standstill during storage operations due to separate fuse protection
Electronic panel measurement
Safety features include secured door and guard fence
suitable for a variety of formats and materials.
Reduction of personnel and organizational costs for panel handling
Storage solution (1) with precision pressure beam saw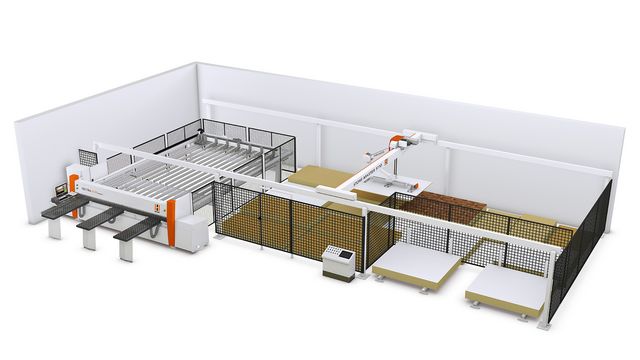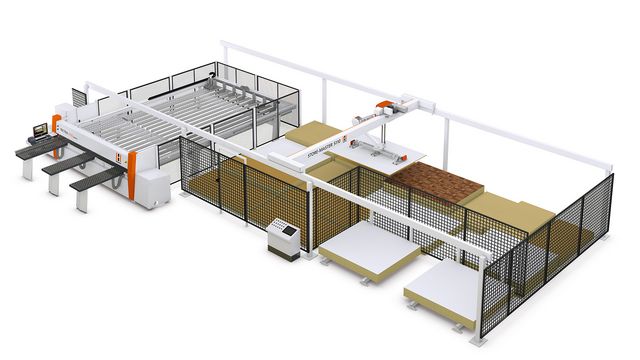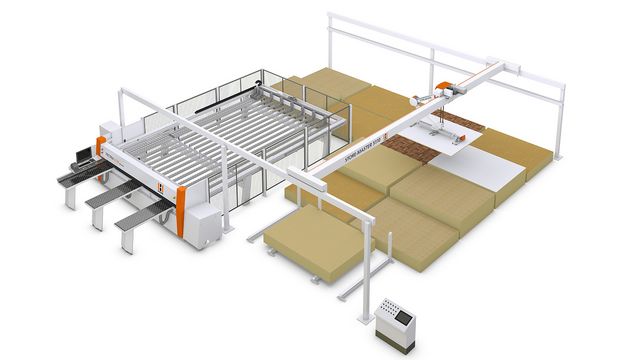 The entry version for craftsmen
This panel storage solution from HOLZ-HER for charging a TECTRA 6120 pressure beam saw, offers ideal stockkeeping and perfect cutting for your craftsmen and a significant increase in productivity.
Thanks to its high acceleration values and feed rates, the TECTRA 6120 horizontal panel saw can process even large quantities of panels rationally. The STORE MASTER panel storage system offers completely automated, intelligent processes.
Storage solutions (2) with saw and nesting feature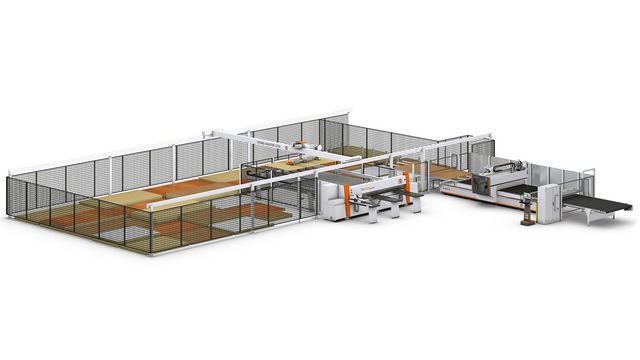 Automation with intelligent software
The panel storage solutions for charging a TECTRA 6120 pressure beam saw and DYNESTIC 7532/7535 nesting CNC machining center in combination with highly efficient utilization of all available storage space.
You can automate your custom production with the support of intelligent software. Fully-integrated software provides a perfect overview of stock, remnants and panels already booked for processing. This elaborate system solution reduces the workload for employees and handles the panel material carefully.
Storage solution (3) professional cutting center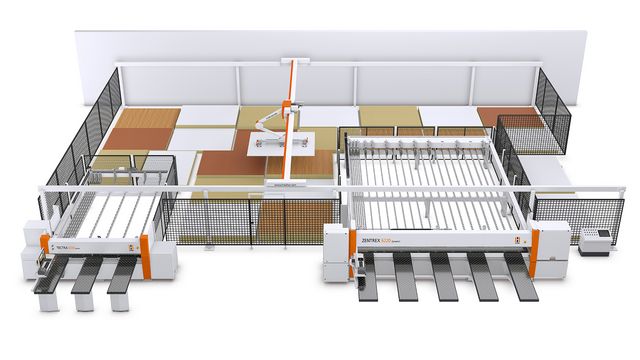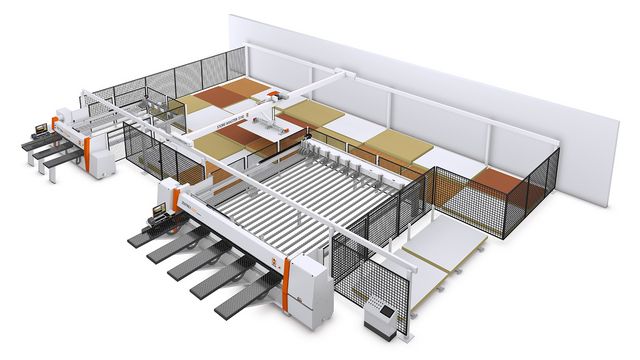 The solutions for maximum performance
Panel storage solutions for your cutting center with the TECTRA 6120 and ZENTREX 6220 pressure beam saws for maximum flexibility in the field of panel cutting.
The panel cutting saws from HOLZ-HER combine precision technology with intelligent handling solutions for effective and precision panel cutting. These saws are distinguished by their powerful performance packages. Nevertheless, they are very compact allowing use even in shops where work areas require economic planning.
Storage solution (4) maximum output with saw and nesting feature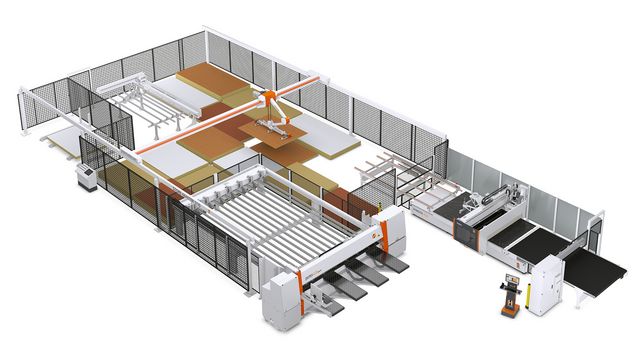 Panel storage solution with automatic labeling system
The ZENTREX 6220 pressure beam saw with its high series cutting capacity is connected to the DYNESTIC 7532/7535 CNC machining center for custom job production in the nesting field with possibilities for milling, drilling and sawing.
These high end nesting and sawing solutions from HOLZ-HER combine individuality and flexibility with maximum output. Develop your own complete production versatility with a system from HOLZ-HER.
Complete, integrated solutions from HOLZ-HER
Pulsar is a marketing agency seated in Dubai, and offering its customers holistic marketing concepts. The agency was founded in 2007 and has a regional as well as global presence with production capabilities in Dubai and Beirut.
The basic idea is to create brand awareness to win customers for a brand particularly at the point of sale. For this purpose the agency offers integrated marketing concepts, including everything customers require for comprehensive brand awareness ranging from shop design to digital marketing, events and promotions.
Since February 2016 the company has used machines from the quality manufacturer HOLZ-HER for production of high quality store furniture elements for the point of sale. A STORE-MASTER panel storage system was installed in combination with a DYNESTIC 7521 nesting machine and a TECTRA 6120 pressure beam saw. Moreover the company operates successfully with a PRO-MASTER 7125 5-axis CNC machining center as well as an ACCURA series edgebander from HOLZ-HER for realization of its innovative store concepts.
Among others Nestlé, Unilever, Procter & Gamble, Nike, Burberry and BMW are included among the highly satisfied clientele in the Arabian world, who are impressed by Pulsar's promise of quality as a result of its investments in high quality production machines.
Variable subdivision of standard elements
The Günthner company is a producer of sun protection systems that produce standard products in small series.
[...] The panel materials for the production of wood components are now being processed by Günthner with a complete solution from Holz-Her. In addition to a Tectra 6120 power plate divider and a Dynestic 7516 nesting machine, this system consists of a 5110 storage bin with ETR-300 labeling station, which supplies both dividing machines with plate materials. "We already had a saw and a nesting CNC in front of this combi-system, but they were both over-aged and had to be replaced. The storage and transport of the plates with vacuum lifters were no longer contemporary. Here, we wanted to relieve our employees and bring order to the camp ", reports the managing director. "The separate replacement of the two old machines was not an option. We wanted an overall concept. "
A year ago, Günthner looked at such a concept at another manufacturing company. It was clear right away. So he got to know different manufacturers and invited them to Rottweil to present their design. Finally, the decision to choose Holz-Her is based not only on machine technology but also on a good spatial arrangement of the concept, the regional proximity to the supplier and the conclusive software package. Since the end of May, the plant, which was built parallel to the old machines still working at that time, is in the house. [...]
Flexible panel storage system for maximum Swiss woodworking competency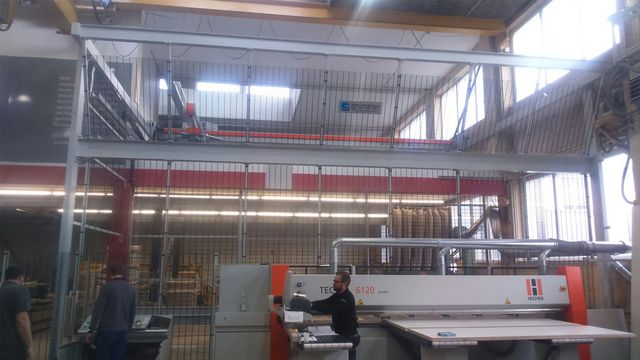 Alpiger Holzbau AG [Alpiger Woodworking Co.] in Sennwald in the Canton of St. Gallen, Switzerland, is a quality conscious, regionally active, state-of-the-art woodworking company. This future oriented carpentry shop offers holistic solutions in the areas of system construction, facades, windows, roofing and interior finished. Its reputation as a state-of-the-art company results from its use of high quality, ecological materials as well as cooperation with supplies guaranteeing high quality. Individual response to customer wishes, flexible planning and reliable completion are major planks in the business policy of Alpiger Holzbau AG.
The company has been working with HOLZ-HER machines since 2014 and has used a PRO-MASTER 7225 5-axis CNC machining center since that time. In 2016 they installed a TECTRA 6120 power horizontal panel saw in combination with a STORE-MASTER 5110 panel storage system. This panel storage system from HOLZ-HER ensures innovative storage layout and was adapted precisely to the space available in the Alpiger facilities. The integrated panel saw is located on the ground floor with the panels at an elevated level to allow space beneath for other types of use. The manipulator in the panel storage system is controlled by a computer to pick up the proper panels at the upper level and place them on the TECTRA 6120 power pressure beam saw on the ground floor for further processing.
This panel storage system has allowed Alpiger Holzbau AG to increase its capacity while reducing personnel and organizational costs and ensuring optimum use of the available space.