Laser edging on guild evenings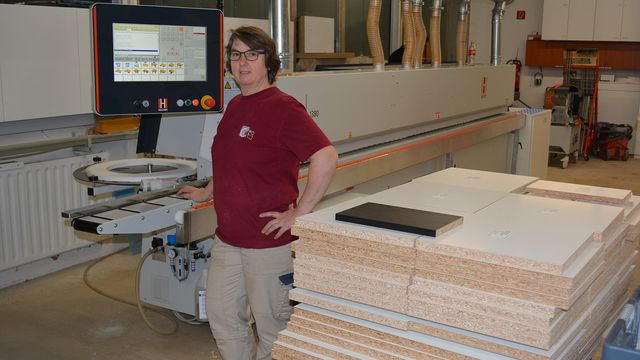 The Krocker Carpentry Shop has worked with HOLZ-HER edgebander for many years. This carpentry shop in Offenburg, near the French border, places great value on quality and precision. Above all, the company's wide range of products requires an edgebander, which allows maximum flexibility combined with quick conversion. The carpentry shop serves private as well as commercial customers and offers bathroom furniture, stairs and furnishings for offices as well as restaurants and physicians' offices, all from one company.
In 2016 the carpentry shop replaced the existing SPRINT 1317 edgebander with a new, larger LUMINA 1380. These HOLZ-HER machines produce perfect invisible joints using PUR as well as laser technology. The machine is operated by the proprietor, Mrs. Krocker, the edging expert at the carpentry shop.
The Krocker Carpentry Shop is a member of the Ortenau Carpenter and Cabinetmaker's Guild. In 2016 the Guild's fall meeting was hosted by the Krocker Carpentry Shop. Representatives from the Ostermann Company as well as HOLZ-HER were present to introduce the latest technologies and products. Angelo Amico, Product Manager for Edgebanders at HOLZ-HER, held a presentation entitled "Two Ways to Achieve Perfect Invisible Joints by HOLZ-HER" and show interested Guild members, the technologies and innovations which make HOLZ-HER an expert for edgebanding. The innovative technologies ensure that the Krocker Carpentry Shop is perfectly equipped to meet the challenges of the future.