State-of-the-art wood processing with digital CNC technology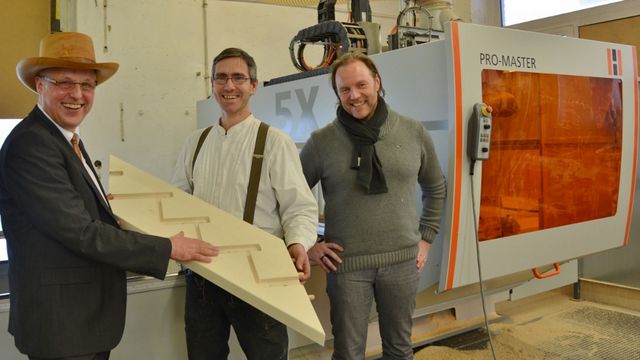 Politics as well as the chamber of commerce support innovate craftsmanship in Sachsen-Anhalt
State-of-the-art wood processing with digital CNC technology
Digital control for machining materials and in construction processes is advancing with increasing perfection. Particularly middle sized companies remain competitive and gain market advantages though use of CNC technology. This was demonstrated by the visit of Sachsen-Anhalt's Minister of Economic Affairs, Hartmut Möllring, at the cabinetmaking shop of Rainer Böhme in Sangerhausen near Halle on January 20, 2016. Here politics and the chamber of commerce are cooperating in a common initiative to put public focus on innovative companies. The heart of production at Böhme is the PRO-MASTER 5-axis CNC machining center from HOLZ-HER.
The visit at the Böhme Cabinetmaking Shop was the kickoff to a series of events for strengthening all 14,700 handicraft business in the chamber region of Halle/Saale. One of the messages for the structurally weak, one-time mining region: Industry 4.0 leads to success in medium sized craft shops. An innovative spirit and good financial planning make the investment in CNC machining for derived timber products profitable very quickly.
"In the ever-tightening European competition, start-of-the-art technology secures advantages for companies; But the link between traditional craftsmanship and state-of-the-art technology in our crafts shops makes the decisive difference", emphasized Thomas Keindorf, President of the Halle/Saale Chamber of Commerce. This is something Master Cabinetmaker Rainer Böhme has already recognized: "In the past few years we have examined the requirements of our customers precisely and determined that, in spite of IKEA and similar retailers, customers want personal consultation."
Stylish, custom craftsmanship
Rainer Böhme's Cabinetmaking Shop has a staff of twelve specializing in high standard interior finishing as well as construction and repair of staircases in addition to producing doors and windows. Here customers receive comprehensive consultation considering all aspects of preserving historically valuable features and other local stylistic elements - particularly in combination with restoration and other types of work in older homes. Investment in a digital machining center was particularly advantageous for such high quality areas with many custom requirements.
The final choice was a PRO-MASTER 7125 5-axis CNC machining center from HOLZ-HER. This acquisition has made it possible completely digitize nearly all production processes today. The cabinetmaking shop - founded in 1993 on the grounds of a one-time shift installation for the local mining company - thus became a pioneer in the process of increasing digitization, which has had a tremendous impact on this traditional craft.
More powerful, faster all rounder with five axes
HOLZ-HER promises PRO-MASTER 7125 users "virtually unlimited capabilities" for machining wood and synthetic materials. And the performance spectrum of this 5-axis power package is laid out for higher-than-average loads. Highly dynamic drives and control technology go beyond simply brilliant results, providing users with extreme acceleration values - and all this on a machining surface with optional dimensions from 3,620 to 5,420 mm (X axis) and machining depth of 1,350 mm (Y axis), which can be reached with all drills and attachments. The working height of 210 mm from the top of the suction cups is enormous and, according to the manufacturer, unique in this class. The large Z stroke of 565 mm is extremely well suited for use of long tools making the cutter unit highly flexible for universal applications.
"Edge processing, grooving, cutting and drilling - for example in stair steps or risers - are all finished completely in one work process", explained Martin Johannes Diebes. The master cabinetmaker at Böhme operates the PRO MASTER and writes the CNC programs. The "Campus" software package integrated into the PRO MASTER is a versatile and user-friendly CNC program licensed for use in the office as well as on the machine, with CAD module and versatile macros to facilitate programming. Furniture parts as well as construction elements such as doors and windows can be programmed easily including all parameters with just a few mouse clicks.
Optimum cutting results at maximum speed
The version of the "CabinetControl" software provided by HOLZ-HER for use in the office as well as on the machine, ensures easy design of cabinets and everything else imaginable. And even the standard version of Campus with the "Academy" module offers a complete CAD program. The Campus software also offers an open interface for connection to other three-dimensional CAD/CAM programs from other leading manufacturers as well as complex 5-axis machining operations. The optional "CURVE-3D performance package" ensures optimum dynamics, best cutting results and maximum machining rates for cutting curves and three-dimensional shapes.
The Böhme Cabinetmaking Shop works with special staircase construction software from the DDX Company. For staircase work a digital measuring system is also used, allowing the data to be processed directly by the design software. "This saves us a great deal of complicated work at the construction site with templates and such", Rainer Böhme reminisces on previous times. Digital production made it possible for us to complete a luxurious spiral staircase in a public building in Cologne with platforms and a total of 60 steps in only three weeks.
Three-dimensional process simulation
When producing individual components such as stairs or risers, the CNC processing steps an be checked with the PRO MASTER in advance on the large 19" monitor using three-dimensional process simulation. An automatic positioning feature for the consoles takes care of the preparation work for the machine table and provides additional operational reliability. An optional ceiling laser allows the position of all suction cups to be displayed in one step for optimum fixation of the work.
A large number of suction cups and variable frame clamps on the PRO MASTER ensure easy handling of highly varying workpieces. The drilling head is available with 16 spindles (standard) or 24 spindles (optional) for variable hole patterns. Both drilling units are equipped with integrated grooving saw. The tool sequence is optimized automatically by the machine software. And a traveling disk tool changer for 18 tools as well as the short clamp-to-clamp time make flexible work very easy with the PRO MASTER even with the basic equipment. Moreover up to 76 additional tool locations are offers depending on the application.