Edgebander LUMINA Series: LTRONIC for perfect invisible joints with laser edging
Designed to meet the most stringent requirements in terms of quality and flexibility. The edgebanders in the LUMINA series stand for complete processing of modern edging and panel materials with invisible joints. Program selection allows the machine to be set up without even opening the hood, so that it is ready for production immediately. The LUMINA series is your guarantee for absolute quality, flexibility and productivity using high quality glued as well as laser edging.
In addition to our LTRONIC and Glu Jet systems, our LUMINA series offers everything required for a professional edgebander. Up to 18 NC servo-axes for maximum automation of all machining units with exact repetition at the touch of a button. Even the pressure and glue quantity settings can be made fully automatically and adapted to the specific requirement. The HOLZ-HER LUMINA with LTRONIC laser edging unit sets the highest professional standards for edgebanding, without compromise.
Edgebanding for artisans at an industrial level.
Invisible Joint with Laser Edging
iTronic for intelligent automation
Waterproof Invisible Joint
Intuitive Operation with Touch Screen
Detail page LUMINA 1380
Your start with HOLZ-HER edging technology
Invisible Joint with Laser Edging
iTronic for intelligent automation
Waterproof Invisible Joint
Intuitive Operation with Touch Screen
Detail page LUMINA 1375
---
Here is what the HOLZ-HER LUMINA series offers
Workpiece Thickness up to 60 mm
Edge Thickness up to 15 mm
Laser edging on guild evenings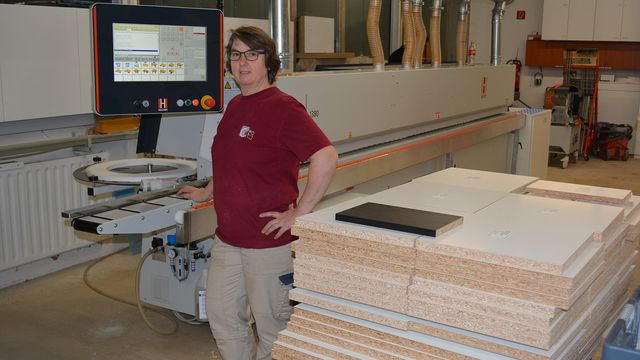 The Krocker Carpentry Shop has worked with HOLZ-HER edgebander for many years. This carpentry shop in Offenburg, near the French border, places great value on quality and precision. Above all, the company's wide range of products requires an edgebander, which allows maximum flexibility combined with quick conversion. The carpentry shop serves private as well as commercial customers and offers bathroom furniture, stairs and furnishings for offices as well as restaurants and physicians' offices, all from one company.
In 2016 the carpentry shop replaced the existing SPRINT 1317 edgebander with a new, larger LUMINA 1380. These HOLZ-HER machines produce perfect invisible joints using PUR as well as laser technology. The machine is operated by the proprietor, Mrs. Krocker, the edging expert at the carpentry shop.
The Krocker Carpentry Shop is a member of the Ortenau Carpenter and Cabinetmaker's Guild. In 2016 the Guild's fall meeting was hosted by the Krocker Carpentry Shop. Representatives from the Ostermann Company as well as HOLZ-HER were present to introduce the latest technologies and products. Angelo Amico, Product Manager for Edgebanders at HOLZ-HER, held a presentation entitled "Two Ways to Achieve Perfect Invisible Joints by HOLZ-HER" and show interested Guild members, the technologies and innovations which make HOLZ-HER an expert for edgebanding. The innovative technologies ensure that the Krocker Carpentry Shop is perfectly equipped to meet the challenges of the future.
The next step to perfection with the LUMINA 1380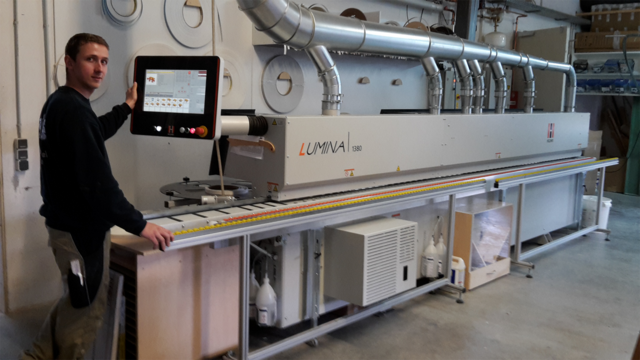 "For love of wood" - is the motto proprietor Otto Pfefferle uses for his Pfefferle Carpentry Shop founded as a family enterprise over one hundred years ago. This carpentry shop for furniture and interior finishing in Tamm is prized by its customers for its high quality custom furniture as well as its flexible furniture design to meet the tastes of each individual customer. With his investment in a LUMINA 1380 edgebander proprietor Otto Pfefferle has taken the next step in the direction of absolute perfection.
The LUMINA 1380 offers a unique combination for perfect invisible joints: The Glu Jet adhesive application system and the LTRONIC laser unit from HOLZ-HER.
"Snooze à la Carte" with high quality water beds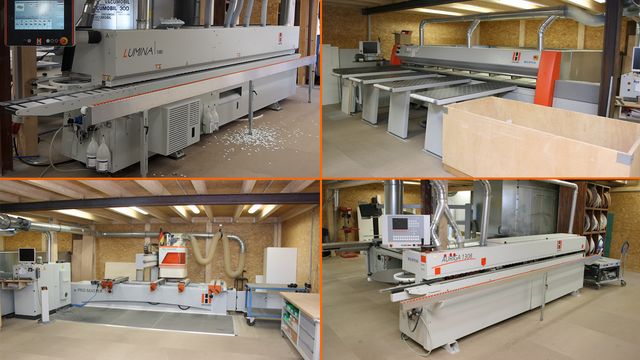 The Kobe Carpentry Shop in Reutlingen has been a loyal HOLZ-HER customer for many years. This year, proprietor Michael Kobe and his team purchased a new LUMINA 1380 edgebander. Following an AURIGA 1308 edgebander, a PRO-MASTER 7018 CNC machining center and a CUT 6120 horizontal pressure beam saw this is the fourth machine from the quality manufacturer HOLZ-HER in Nürtingen. Master Carpenter Tobias Ernst is enthusiastic about the new high tech edgebander: The LUMINA has a change-over station to ensure perfectly invisible joints with laser edging as well as with PUR glue without requiring a great amount of time to change attachments.
This three-man shop in Reutlingen has specialized in building water and box spring beds. It has adopted the motto "Snooze à la Carte". The carpentry shop works with a state-of-the-art measuring system to ensure custom sleeping comfort at the highest level. The components and frames are produced in the company's own workshop to customer specifications. In addition to high quality beds, in the meantime the carpentry shop is now producing more and more exclusive bedroom furniture and interior finishing elements. The carpentry shop's products can be viewed in their exhibition rooms in Böblingen and Reutlingen.